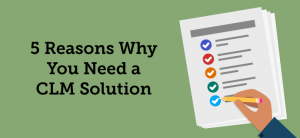 Contracts are assets; optimize your process to maximize the value they represent.
Regardless of size, industry, and region, there are a few things all businesses have in common. For one, they all operate based on a foundation of contracts. If you agree the same holds true for your business, are you currently using a contract management system?
In an article in the Texas Bar Journal a while back entitled "Why You Should Want a Contract Management System," author Jason Smith of Duff and Phelps posed five important questions for companies still managing contracts manually (think emails and spreadsheets). If your company is doing that, then read on.
Read between the lines: Understanding the benefits of an automated contract management system process
You may think that because you aren't managing thousands of complex contracts, and because the majority of your contracts are of the same type, implementing a contract lifecycle management (CLM) solution isn't for you. But complexity is just one of the challenges CLM tackles.
As Smith responds to each of his own questions, he sheds light on both the business cases and value of CLM. Adding just a bit more color to his responses, the answers below will help illustrate that you don't just want CLM — you absolutely need it. Here's why:
1. Why would I want my contracts and contract data in a central repository?
Because you can't afford to have your entire staff turn into researchers, hunting for key data and neglecting their regular duties, every time something like an audit occurs. By putting your contracts and the data they contain in a contract management solution you enable the right people to locate the right information at the right time. Fast.
A contract management solution integrated with Master Data and metadata will bring your key data to the surface, and then take it a step further by helping you analyze it, review trends, and find areas for potential risk (so that you can avoid them). CLM empowers you and your entire organization to stop responding reactively and start acting proactively, to take control of the fate of your business and the business relationships that make it possible.
2. Does decentralize data creation really have an upside?
Not at all. The more cooks you have in the kitchen, the less work you actually get done, resulting in decreased levels of both efficiency and effectiveness. When you manage contracts manually, you allow for repetition and duplication of efforts. But when you centralize and automate your contract processes with contract management, you get to assign specific responsibilities to those individuals or job functions in the workflow best positioned to do so. Legal stays away from finance's numbers and finance stops trying to write legal copy and add lines into the legalese.
3. Does voluminous legalese trump simplicity and efficiency?
Like many companies, you very likely author contracts comprised of similar terms, conditions, and legalese on a regular basis. So, no.
With contract lifecycle management, you skip the tiresome and repetitive process of drafting the same contract multiple times by making use of standard templates, which draw from a pre-approved library of clauses, language, and alternate language. Your contracts basically write themselves, and you get back the time once lost on re-keying contract data, searching for templates, and hunting for the correct language.
4. Is there a way to avoid salespeople?
If your sales reps aren't the ones providing key contract information generated from the quoting process, then where's it coming from? Sorry, but no. You need them just as much as they need you.
Instead, look to CLM to resolve your cross-functional problems without slowing down your whole sales cycle. You establish the rules that dictate how contracts move through the contract management system during implementation (you can make changes later), and you also determine who is required to take specific actions (input data, provide additional information, approve, reject, etc.) when. With the help of alerts and notifications, every member of each of your teams is prepared to take action when needed, and every stakeholder is kept in the loop.
5. If a contract auto-renews in the woods, does it make a sound?
Yes! What you don't know about your contracts can most definitely hurt your business, and letting contracts auto-renew without your knowledge does you no favors. Letting such events slip by undetected actually costs you money, leading to less favorable terms, missing deadlines, losing opportunities to renew business, and suffering payment errors.
Instead of later trying to determine what's been slowly eating away at your bottom line quarter after quarter, consider that a CLM system provides you the ability to set alerts and notifications based on data, rules, and dates. Never miss or show up unprepared to your most critical business moments again, because you simply can't afford to.
Boost company-wide efficiency with contract management software
Contract management software is a business tool that enables you to do more with less. Solutions like our CLM solution are designed to increase efficiency, effectiveness, productivity, and profitability, while at the same time eliminating risk and decreasing contract cycle time. These are benefits and advantages all businesses need.
---
If you'd like to learn more reasons why you need Contract Management, schedule a no-obligation custom demo