In the most recent installment of Contract Heroes, our hosts Marc Doucette and Pepe Toriello had the opportunity to sit down via Zoom with a legend in the legal tech industry: Agiloft CEO Eric Laughlin. Eric has years of experience providing content for in-house legal council as well as helping legal teams grow and improve their processes by implementing the latest in legal-tech software. His company, Agiloft, offers an adaptable enterprise software that specializes in commerce and contract lifecycle management (CLM).
The chat focused on the best ways to get the most out of your CLM tools, driven by a few key questions geared to explore the substantial growth of legal ops in the past year. Eric weighed in with some of his own past experiences incorporating contract management tools into business and ended on a note of great advice for anyone who has recently implemented a CLM tool or is looking to do so in the near future.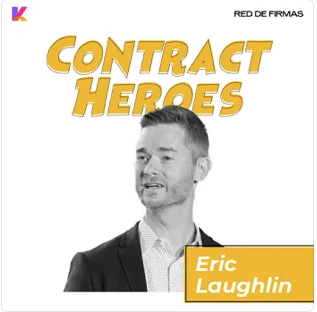 Legal Ops Growth
The recent push for legal ops at the enterprise level has been huge, so we first wanted to get a look at Eric's perspective on why this sudden growth is taking place. Looking back, he explained the slow ramping up of this movement over the past decade. As software developed to generate more and more useful data, numbers that expressed value and savings over time, the power of data became apparent. Analyzing the date output from CLM tools allows us not only to discern the areas that need to be improved, but also find real, actionable solutions for improving them.
Eric believes this slow shift toward data-driven analysis of processes came to a head under the influence of COVID-19, finally giving a decade-long movement the moment it needed to take off: "When the pandemic hit, it was a real accelerator for digital transformation, process-driven thinking, and alignment of processes across legal departments, and the legal ops groups were ready to make a difference." While under such huge pressure for fast technological advancement, legal ops groups utilized this type of data-driven thinking to document steps in the contract process and quickly adapt solutions to handle the new problems brought about in the world of a global pandemic.
How CLM Tools Help Across Departments
According to Eric, software is key to obtaining alignment between departments. Superior to discussion and PowerPoint slides, software is "a canvas to paint a process." Troubleshooting processes is much easier when there are aspects or certain steps in the software to point to as the problem. The data provided by the software paints a picture not only of what the process looks and feels like, but also the places where it needs to be improved. This sort of adaptability is essential, as Marc pointed out, because no two implementations of a software will ever be exactly the same. Contracts engulf every department, not just the legal team, so the process has to be open to the possibility of unique changes.
Implementing CLM Tools: The Early Steps
Since a lot of companies may be just getting started with contract lifecycle management, we asked Eric for some early steps to take when implementing CLM for the first time. His advice was to first figure out your biggest problem at the moment and focus on ways a CLM tool could help to resolve it. A mistake that some companies make is to start with the typical industry problems or uses for CLM, but if you discern a few issues that are more specific to your company's current needs, whether it be contract deadlines or proactive discovery, then you can hit the ground running with your CLM implementation.
He went on to explain with a laugh that a necessary second step is then to see what went wrong in your first step. "Show people in your department that you're responsive to their complaints," he said. By adjusting the system to accommodate feedback, you're fully taking advantage of the benefits that working with data-driven software provides. And don't be afraid to go to your business partners and ask what type of information they need because the data collected from your CLM tools can be used to show different departments what they're doing well and what could use some improvement.
What to Look For When Using CLM Tools
The final question we posed to Eric is another common one among companies who are early in their CLM implementation process: what are the takeaways to look for when it comes to the ROI of a CLM tool? Of course, there are numerous valuable takeaways provided by CLM tools, but for first-time users, Eric emphasized focusing on expense leakage and speed to contract, as quite often in business, time is of the essence when it comes to making deals happen. 
A sometimes overlooked metric he also recommends paying attention to is customer satisfaction. "How good am I to do business with?" is the question to keep in mind. Try to make the process of becoming a customer just as enjoyable as the actual product that your customer receives in the end. That's the key to building good, lasting relationships.
For more exclusive chats with expert guests and valuable legal tech advice, check out our past installments of Contract Heroes and stay tuned for future episodes still to come! If you have any questions for our guest Eric Laughlin, his LinkedIn profile can be found here.