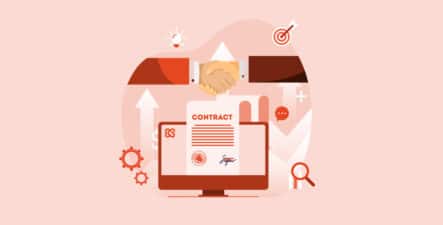 One of the best ways to optimize your processes is by implementing contract automation in all your departments. If you want your business to grow, then you need to adapt to the new market requirements and challenges. While many believe that contract automation software can only benefit legal departments the truth is that with an automatic contract lifecycle management, your whole company can benefit.
Benefits of contract automation
No matter the size of your business, contract automation software can help you significantly reduce the time, effort and resources invested to manage your contracts. 
Legal department

There are many ways your legal department can benefit from the implementation of contract automation. The first advantage is that it helps to improve internal approval times with built-in signature software.
On the other hand, a contract repository with a complete history of changes you are always ready for audits. All collaborators and interested parties have easy access to all versions.
Sales department
Automatic contract management for the sales department allows your team to keep track of all agreements with an efficient contract timeline. Besides, you can secure internal approvals and make all necessary changes requested by clients immediately.
Procurement department

Managing your contracts manually can sometimes lead to miss renewal dates. This complicates and slows down the whole process. However, with automatic software, you can visualize all processes and updates in the digital workflow, and get renewal reminders when necessary.
Moreover, you get total control of data, which allows your procurement team to standardize all requests improving your contract lifecycle. 
Finance department

Thanks to automatic contract management you can centralize sale, purchase and legal contracts in a single location that is secure and easy to access to all members of the team. This means an important benefit, having greater control to ensure budget compliance.
HR department

Focus your efforts on contracts that help your business grow, and stop the ones that require time and resources investment. Contract automation empowers your HR department by helping to create faster onboarding experiences for new hires. 
IT department

An automatic contract lifecycle management provides a better insight into your portfolio, getting clear and easy access to costs, distribution, performance and key milestones. 
You can also benefit from contract automation
Every department in your company can benefit from contract automation. As it allows your team to focus their efforts on making your business grow, while the software simplifies their processes.