Contract management
Built with your department in mind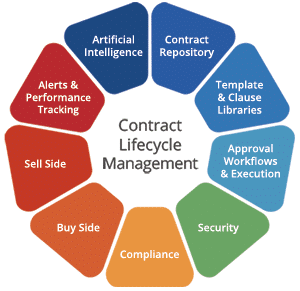 Legal
Sales
Procurement
Finance
Operations
IT
Legal
Increase productivity and centralize control with one legal technology solution
Enable self-service with automated exception management.
Build your legal playbook of pre-approved content and fall-back provisions into a dynamic clause library.
Automatically enforce use of most recent versions.
Control editing rights and lock down legal clauses to eliminate unauthorized exceptions.
Slash cycle times to provide the best and most efficient legal service to the business.
Know which legal content is slowing the closing cycle.
Gain visibility with reporting and analytics on the contracting process end-to-end in one legal technology solution
Automate your processes to run 24/7 and set SLAs to keep momentum and meet compliance requirements.
Sales
Procurement
Finance
Operations
IT

Ready to see how we can transform your team?